US stock market risk - 2018/11/28
on
Boost Your Market Confidence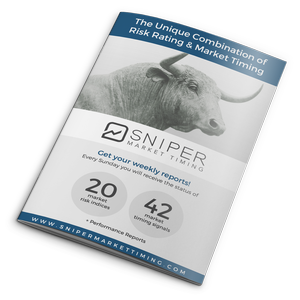 42 investment signals
20 market risk ratings
performance reports
US Stock Risk Closed at a High-Risk Level of 61%
Stocks
US stock markets surged higher on Wednesday. US stock market risk decreased to a high-risk level of 61%. US tech stock risk closed at a new medium risk reading of 59%.

The regional stock market risk index for the US, Canada, and Western Europe decreased to a high-risk reading of 71%.

The Global Stock Market Risk Index (GSMRI) remained at a high-risk reading. The GSMRI closed at 67%.

Bonds
The Global Bond Market Risk Index (GBMRI) closed at a low-risk reading. The GBMRI closed at 21%.

The regional bond risk index for the US, Canada, and Western Europe sunk to a low-risk indication of 21%.

FX
The Global US Dollar Risk Index (GUSDRI) remained at a low-risk level. The GUSDRI closed at 23%.
---
Quick info
Our FX, bond, and stock market risk ratings have been created to indicate the potential risk of investments on an aggregated basis in percentage points. A low percentage reading suggests a positive and rather low-risk environment for the respective market.
Generally, a risk level equal to or above 60% should indicate a relatively high-risk and unfavorable market environment.
More information about our intuitive risk ratings and how they work at Market Risk Ratings - How it works.
---
Creating Confidence!
"Our goal is to avoid adverse financial impacts for our customers.
We are passionate about analyzing vast amounts of financial market data to detect and assess market risk anomalies for our newsletter subscribers.
We genuinely believe in our unique insight and our approach of combining market timing with risk ratings to erase the guesswork for our clients".
- Wolfgang, founder -